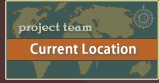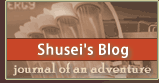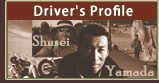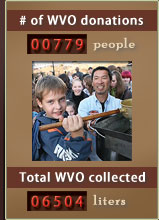 It is a world trip. From Japan to Japan. The whole trip will be at least 60,000km (37,500mile).
The car was shipped from Japan to Vancouver, Canada. Taking a big U-shaped route, we cross USA (WA-OR-CA-AZ-NM-TX-LA-FL-GA-NC-VA-PA-NY-MD : subject to change). Then we send the car again to either Africa or Western Europe by ship. After that, we go through Eastern Europe, Russia via Central Asia to China. All the way back to Japan.
The trip is not based on timeline. It depends on how much oil we collect and how much we can process. We get effected the population of the places, people's diet, weather and so forth. Nobody can tell how long it takes, but we are thinking roughly 8 months to 2 years.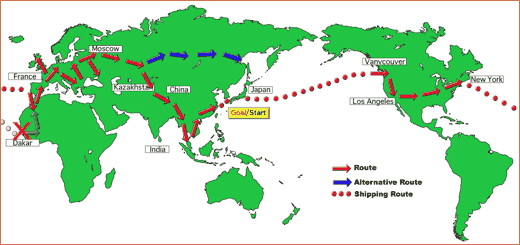 Area:
Start Date:
End Date:
Driven:
Kick-off in Tokyo
Dec. 4th, 2007
1,600km
Phase I : North America
Feb. 12th, 2008
(Vancouver, BC)
Apr. 25th, 2008
(Washington, DC)
15,000km
Phase II : Europe & Africa
Mid. June
(Portugal)
TBA

n/a
Phase III : Russia & Asia
TBA
TBA
n/a
Total distance : 40,000~70,000km (25,000~43750miles)
Total period : about 8 months up to 2 years