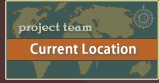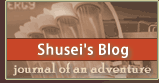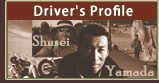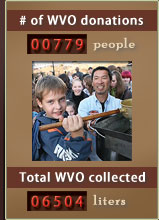 Purposes of this project

Biomass fuel = Ecofuels has been getting more and more attention these days. Among many kinds of alternative fuels which don't increase carbon dioxide, we became interested in biodiesel when we learned that it could be made recycling vegetable oil. So we decided to experiment and test this fuel as one of the replacement.
The process of making biodiesel is pretty simple. And some people make it at home. We searched for help in developing a very small processor and had test drives in long distance. In this trip we collect used vegetable oil, process it and discard the byproduct. Through this, we hope to learn and think about the environment and energy issues.
"Biodiesel Adventure" is a project of world tour on biodiesel. We ask people for waste oil donation, make our own fuel in the car and drive around the world. There is no gas station stops necessary. Instead, we need people and communities to support us. Together we can make this adventure more interesting and more meaningful.
We live in the era when we all have to know that we are one. To practice how to share and live together in peaceful way, we decided to start from doing something we can do and want to do.